Set up for growers, Run by growers
The Horticentre Group, formerly Veg Gro Supplies Limited, was set up by the Auckland Vegetable Growers Society in 1981. Growers in the region at that time, initially began bulk buying chloropicrin, which was soon followed by technical fertilisers, in order to maintain profitability for themselves as growers. From this very basic enterprise grew Veg-Gro Supplies Limited, set up for growers, run by growers and formed to ensure growers obtained a fair deal when purchasing their horticultural supply requirements.
The Horticentre Group is committed to;
Service Promise
In an industry that is extremely competitive, our service is second to none.  We are a company with first hand knowledge of what our customers are dealing with on a daily basis and how to best assist in providing solutions for them.
Our service promise is:
If we don't have a product in stock, ask and we will find a source solution for you.
If you are not close to our stores – through our extensive network of logistics companies – we will make sure that you get the supplies you require.
You will always receive helpful advice with a cheerful attitude.
Industry Support
The Horticentre Group works hard to ensure the New Zealand horticultural industry has access to the latest research and technology for commercial horticultural growing.  The future of our industry relies on new research discoveries and talented people entering the industry.
The Horticentre Group has been a long time supporter of the horticultural industry when it comes to training, education, research and advancement of people within the industry.  To support industry growth we:
Sponsor Young Grower of the Year Awards (both regional and national events).
Sponsor Young Horticulturalist of the Year Awards.
Support national conferences and regional events.
Provide technical experts in many areas of horticulture.
Provide scholarships to assist with the education of horticulturalists.
Are actively involved in Industry Research initiated projects.
Have strong links to leading overseas research institutes and companies to ensure the best products and new technologies are available for commerical growers.
40+ years on, the company still operates from its founding principles and now boasts a team of 75 delivering the best service in the industry. The Horticentre Group has eleven stores: seven in the North Island and four in the South Island.
The New Zealand Horticentre Trust is a Charitable Trust that was established in 2008 with the  objective of providing "a helping hand for the horticulture and viticulture sectors". The Horticentre Charitable Trust supports these sector groups and growers alike in the promotion of education, training, research & development, grower welfare and disaster relief.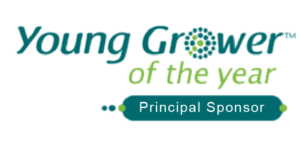 Young Grower of the Year is an annual competition run by Horticulture New Zealand to find the best young fruit or vegetable grower in the country. Finalists are made up of the winners of the four regional Young Fruit Grower competitions and the winner of the NZ Young Vegetable Grower.